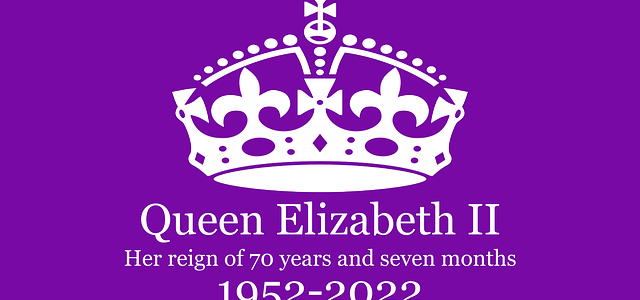 Her Majesty Queen Elizabeth II 
An icon that will truly be missed. 
We are deeply saddened by the passing of Her Majesty the Queen. Her faithful service as our Sovereign has shaped the United Kingdom into a dynamic nation of peace, progress, and forward-thinking. Her devotion to duty remains an example to us all. We extend our heartfelt sympathy to The Royal Family at this difficult time.
As our tribute to Queen Elizabeth's happy and glorious reign, we'd like to look back at some memorable moments of laughter and fun throughout her incredible life.
Throughout her long rule, she often gave us glimpses of her sense of humour and playful personality – whether that be by cracking jokes with world leaders, sharing tea with Paddington Bear or rocking out to, yes you guessed it, Queen.
Here are just a few of her funniest moments that stick out to us at It Works.
When she skydived out of a helicopter at the London 2012 Olympics
Despite being 86 years of age at the time, Queen Elizabeth astounded us all with her death-defying stunt for the opening ceremony of the London 2012 Olympic Games.
In unbelievable scenes, British secret service legend James Bond (aka 007) arrives at Buckingham Palace to escort the Queen to the opening ceremony. Flying by helicopter over London's iconic landmarks, the Queen and her escort hover over awaiting onlookers.
Then, in a completely unexpected twist, the Queen and Bond appear to skydive into the stadium!
Naturally, the Queen herself didn't perform the daredevil feat – this was done by a clever body-double – but the impact of the epic moment will always be fondly remembered.
Angela Kelly, Royal Dressmaker to Her Majesty, commented: "Queen Elizabeth was very amused by the idea and agreed immediately" – which goes to prove her fantastic sense of humour and humble nature.
Watch the full clip of the hilarious moment here.
When she shared afternoon tea with Paddington Bear
For the Platinum Jubilee celebrations earlier this year, Queen Elizabeth II invited the loveable children's book character Paddington Bear to take afternoon tea. After a few clumsy mishaps, the Queen showed she has no airs and graces, smiling and laughing as Paddington ruins her tasty treats.
Her Majesty even shares Paddington's trademark habit of keeping a marmalade sandwich close by in her bag 'for later'.
Yes Ma'am, we also have one stashed away just in case! Watch the brilliant clip of her dining with clumsy Paddington Bear here.
When a royal fan didn't recognise Her Majesty 
Speaking to Sky News during Her Majesty's Platinum Jubilee celebrations in June 2022, former royal protection officer Richard Griffin recounted how Queen Elizabeth II's mischievous sense of humour led her to toy with an unwitting American tourist in Scotland.
Despite being possibly the most recognisable person on the planet, the American fan didn't realise he'd met the Queen herself when encountering her on a walk near Balmoral estate.
After the parties exchanged small talk, the American gentleman asked the Queen where she lived.
Keeping up with the joke, Elizabeth said that she lives in London but has a "holiday home" in Aberdeenshire, where Balmoral Castle is situated. 
The unlucky tourist then asked the Queen if she visited the area often, to which the quick-witted monarch retorted: "I've been coming up here since I was a little girl, so over 80 years."
"Well, if you've been coming up here for 80 years you must have met the Queen," the American replied.
Without missing a beat, Elizabeth said: "Well, I haven't. But Dick here meets her regularly," gesturing at her protection officer.
When she teased former president George W. Bush
Proving yet again her sharp mind for humour, the Queen had some brilliant banter with President George W. Bush during her visit to the White House in 2007.
In an innocent slip-up, the former US president mistakenly said that the Queen had previously celebrated America's bicentennial in 1776. He had meant to say 1976 but instead said 1776, accidentally adding 200 years to the Queen's age.
She then teased him over the comical error, jesting: "I wondered whether I should start this toast by saying, "When I was here in 1776…"
When she asked Queen to play God Save the Queen
On the roof of Buckingham Palace no less! To celebrate the Queen's Golden Jubilee in 2002, Her Majesty arranged for Brian May, lead guitarist of the band Queen, to perform the national anthem from the top of her famous London residence on his electric guitar.
She was a big fan of the eponymous rock band and even had a nod to their music in her Platinum Jubilee celebrations when ceremonial drummers played the iconic Queen beat of We will rock you.
Watch the clip of the legendary British rock moment here.