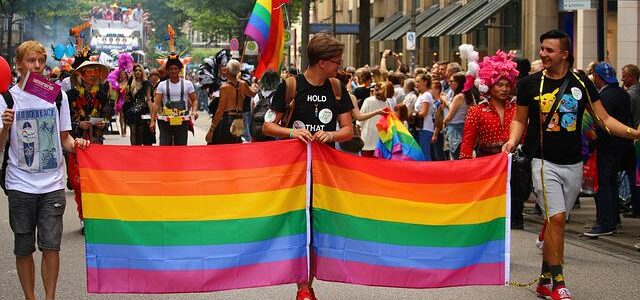 It's official – June is here and it's time for us to celebrate Pride Month: let the fun begin!
Pride is a chance for us all to celebrate LGBTQ+ achievements while also recognising and raising awareness about the huge amount of work that still needs to be done. C'mon people! 
Some of the biggest household names have joined in, creating Pride focused campaigns and products to pledge their allegiance to the cause. Recently, some big brands have received criticism for jumping on the LGBTQ+ glitter boat in June, while ignoring the cause for the rest of the year.
 This year, we're hoping it's going to be bigger and better than ever with brands collaborating with LGBTQ+ artists, designers and innovators across the world to push progress forward and help to create long-term change.
We're sharing some of our favourite pride 2022 solidarity campaigns so far:
DOC MARTENS
Dr. Martens has reimagined its classic design in white with an embroidered Pride Flag! The iconic 1461 brogue shoe has remained unchanged for six decades of production until this year. The new shoe also includes a pair of white socks embellished with the pride flag colours. 
Pledging solidarity to the cause, Dr. Martens has committed to donate £217,000 to charities around the world including the UK based Albert Kennedy Trust, an LGBTQ+ youth homelessness charity that provides housing support, mentoring and life skills training.
TESCOS
This year, Tescos will be one of the main sponsors for London Pride, the UK's largest Gay festival. To celebrate the LGBTQ+ event, it has changed its logo to represent the rainbow of colours on the Pride Flag. 
As well as funding the free-to-attend event, Tesco will be donating £100,000 to three LGBTQ+ charities to celebrate this year's Pride festival and support the LGBTQ+ community.
GOOGLE
For Google Chrome and Pixl users, new LGBTQ+ wallpapers are now available to download on your screen! Collaborating with French illustrator Yann Bastard the three colourful backgrounds are entitled: celebrate uniqueness, chain of hope and wear your pride.
LEVIS
Levi's has released a fashionable range of rainbow patterned t-shirts, denim fits and bold accessories. 100 per cent of the net profits will go to OutRight Action International, a nonprofit working to defend and advance human rights for LGBTQIA+ community. Levi's also donates to OutRight Action every June, helping to support their work all year round!
HARRY'S
Harry's razors have introduced a Shave With Pride Set available all year round! Each razor has been designed with a unique iridescent handle, celebrating individual differences. Even better? 100% of profits are donated to LGBTQ+ causes and supported by LGBTQ+ icon Jonathan Van Ness. 
London pride will take place on Saturday, 2nd July in Trafalgar Square with many other festivals being held across the whole country too. Get yourself involved to support the cause and don't forget to check out some of the awesome brands mentioned in this article.